This post is sponsored by Basic Invite. All opinions are my own.
I'm so excited to be partnering with Basic Invite to show you how they totally have you and your wedding covered, from A-Z! Starting with the Bridal Shower Invitations, to the wedding websites, the wedding invitations and the thank you cards, there's no need to piece-meal it all together. Basic Invite can help you coordinate it all and send samples of everything until it's just the way you want it! Starting, of course, with the Bridal Shower Party Invitations!
Starting with the Bridal Shower Invitations, you'll find so many fun and fresh designs at Basic Invite! I love that Basic Invite is one of the few websites that allows customers almost unlimited color options with instant previews online. You can change the color of each element on a card, with over 180 different color options. The card can be exactly how you want it, down to the littlest detail. As a graphic designer myself, this is THE BEST! I get so frustrated with sites with set templates that I can't manipulate.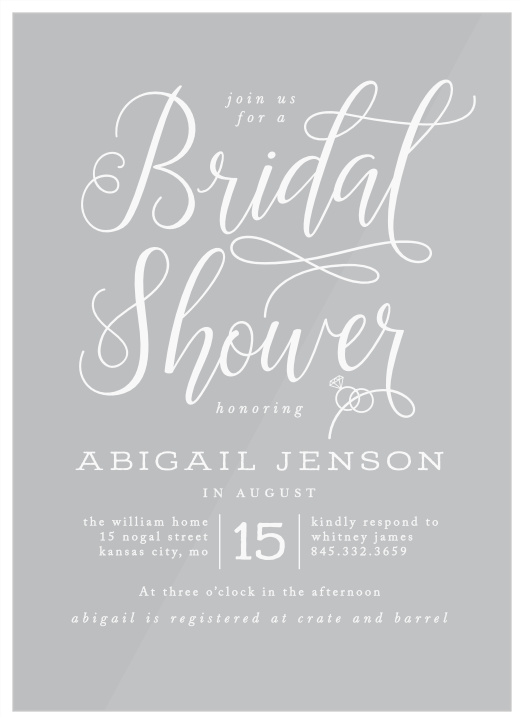 The star of the show when it comes to paper and your wedding is definitely the Wedding Invitation itself! My favorite thing for sure about Basic Invite is the "order a sample" feature. Over the last few weeks I've ordered several samples to get a feel for the quality and options they have to offer. There is no "online preview" that can trump actually holding the invitation in your hand. This option is priceless when it comes to picking out that perfect invite for your wedding. There are so many shape and paper options, I recommend trying a couple out with the same invitation to see which one steals your heart (I love the shimmer paper!! Talk about making a statement…).
Each of their wedding invitations is part of a set. They have all the wedding stationery you need, like save the dates, wedding invitations and enclosure cards, wedding menus, wedding programs, and even matching thank you cards! There are over 40 different envelope colors so that you can make your invitation stand out even before it is opened. All of the envelopes are peel and seal so the envelopes can be closed quickly and easily.
Their newest collection, the Seal & Send Wedding Invitations, is going to change Wedding Invites as we know it! They are an all-in-one wedding invitations with a tear-off RSVP postcard included! Brides are LOVING them. Currently, they offer them in over 30 designs including their ever-popular foil options, and, like other products, they are customizable. What's special about the Seal & Sends is that guest's addresses are printed on the front of each invitation so no envelope is necessary! All you have to do is share a link, collect guest addresses, and upload them onto your design. Once you receive your order all you have to do is add postage, fold your invites, and secure them with a sticker! Simple and easy.
On top of all of that, they offer FREE wedding websites that, like everything else, are completely customizable! They are mobile friendly and super easy to use. You can instantly upload all of your wedding details, along with images, and a convenient map with directions for your guests. Choose from 180 custom colors, and a design suite to match your wedding invitations!
As I've worked with Basic Invite I've been so impressed with their customer service and print quality. Your wedding is a once-in-a-lifetime experience! You'll be so glad you trusted it to Basic Invite! You'll be hearing a lot more about Basic Invite from me in the future, as a paper and print quality snob, they've made a believer outta me!